How To Clean UGG Boots Without Kit – Ugg Cleaning Tips!
Anybody who owns a pair of UGGs knows how hard it is to clean it. Even the manufacturers are aware of the issue and have come up with their products to keep these boots clean.
But the sad part is, if you want to use those products, you need to buy them which in all honesty, is not exactly cheap.
But if you cannot buy those cleaning kits, does that mean you cannot keep your UGGs clean? Definitely not.
In this handy guide, we will teach you all about how to clean your UGG boots without a cleaning kit, to help you keep those boots looking fresh and brand new.
How to Clean Light Stains or Dirt from UGG Boots
If you do not have a UGG cleaning kit, do not worry; there are plenty of other common household items you can use for this. In the following section, we will give you a few handy tips to keep your UGG boots clean and shiny with objects you have around your home.
1/ Use A Suede Brush
Most people who own a couple of leather boots should have a suede brush at home. The main purpose of this brush is to keep your boots free of dirt, mud, or snow. And they work perfectly with your old pair of UGGs too.
Using it is simple and straightforward. Gently scrub the outer edges of the shoe to extract any light dirt or mud. Remember to use light strokes.
Since suede brushes come with firm hairs, going with heavy strokes can damage the finish of your boots.
2/ Using Paper Towel
Everybody has paper towels in their home. Though it is mainly used to clean your kitchen counter or wipe excessive water or oil, it can work pretty decently at cleaning your UGGs. However, they might not be effective at cleaning tougher stains.
Remember to moist the paper towel with water before you start rubbing it on the surface of the boot. After giving your boot a thorough yet gentle wipe, you should immediately notice the mud disappear.
Leave your boots out to dry for a day before you start using them.
3/ Damp Sponge
Similar to paper towels, a damp sponge works quite well for cleaning your UGGs. Though users prefer to use a sponge with a cleaning solution, you can use plain water for this type of job just as efficiently.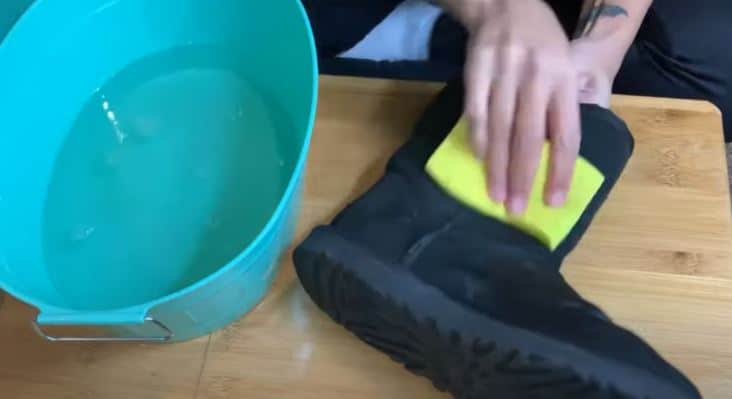 Brushing off dirt or snow from your boots using a damp sponge is pretty straightforward. After cleaning, you want to let your boot dry for at least 24 hours before you wear it.
4/ Microfiber Cloth
Microfiber fabrics are a special type of fabric that leaves no tint when you use them. This fabric is typically used to clean sensitive items such as cars, glasses, or similar objects that you do not want to scratch. And for cleaning UGG boots, they work like a charm.
If you do not have any specialized fabric to clean your boots, get a microfiber cloth. You can moisten it with a little bit of water and apply it directly to the surface of the boot to clean off any dirt or mud.
5/ White Vinegar
If you like browsing around the internet, you have, no doubt, seen many different DIY hacks with vinegar and baking soda. Well, here is another one for you.
Take one tablespoon of baking soda and two spoons of white vinegar and mix them well in a cup. It should start looking like a paste.
Then take an old toothbrush and use it to scrub the surface of your UGG boots. This trick works with any leather boots out there.
The best part about this trick is it can get rid of tougher stains from the UGGs. However, make sure you do not scrub too roughly. Otherwise, the hairs from the toothbrush can scratch your boots.
Other Ways to Clean UGG Boots
The five ways to clean UGG boots we mentioned above works perfectly when you are cleaning light stains or dirt from your boots.
However, for tougher stains, a more drastic approach is often required. Simply wiping off the dirt with a damp piece of cloth is not effective in that case.
In the following section, we will give you two foolproof ways to clean your UGG boots and make them look new without having to use any cleaning kit.
1/ How to Clean UGG Boots with Baby Shampoo – Simple Steps
If you have little children in your house, there is a good chance that you have a bottle of baby shampoo. And with this one component along with a few other small items, you can restore your UGGs to their formal glory without any extra hassle.
For this to work, you would need a soft bristle brush or a vacuum brush, sponge, water, a piece of microfiber cloth, a toothbrush, and a bottle of baby shampoo. Don't worry, you do not need to waste the entire bottle.
Start off by wiping the surface of the boot using the brush to get rid of any loose dirt from it. Then take the sponge and dampen the surface of the boot with a little bit of water.
Now take the baby shampoo and dilute it with water. Make sure you are using baby shampoo specifically and not any regular shampoo for adults. Baby shampoos are designed to handle the soft skin of your baby and do not contain any harsh components.
Take the sponge, wet it with baby shampoo, and gently rub the entirety of the shoe. You can use the toothbrush to clean the outsole area as wiping it with a sponge may be a bit difficult.
After you have cleaned it thoroughly, use the microfiber cloth to wipe off any residual shampoo. Leave it to dry overnight and voila! Your UGGs should be as good as new.
2/ How to Wash UGG Boots in Washing Machine – Simple Steps
People tend to have a divided opinion on whether they should wash their UGGs in a washing machine.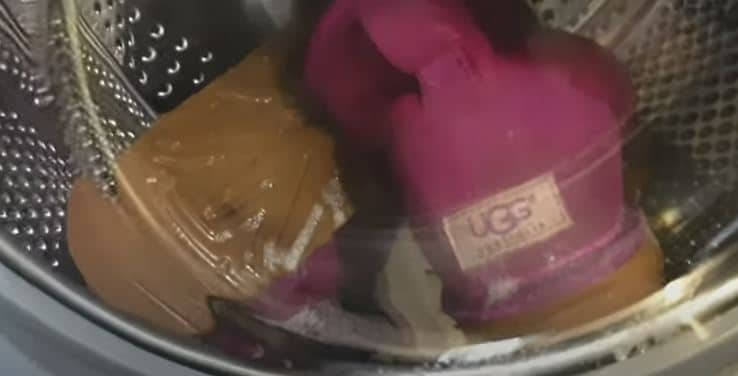 Having tested it ourselves on more than one occasion, we can safely say that yes, you can. However, you need to be a bit careful with it.
Make sure you put your UGGs in a mesh laundry bag when you put them in the washer. It will offer a basic level of protection and keep the fleece contained.
You can use a small amount of clear detergent and set the wash cycle to delicate. Do not use hot water.
After cleaning the boot, leave it overnight. Do not put it in direct sunlight or near any heat sources. Simply place it in a well-ventilated area and the air should take care of the rest. Your Ugg's will be fluffy inside and look like new again.
Can Fluffing the Inside of Uggs Help Clean the Boots?
Cleaning your Uggs is essential to extend their lifespan and maintain their appearance. Many people wonder if Making the Inside of Uggs Fluffy can actually help in the cleaning process. While fluffing the inside might improve comfort, it does little to clean the boots themselves. To effectively clean your Uggs, use a suede brush and mild detergent, following the recommended instructions.
Final Thoughts
UGG boots are extremely stylish and a practical choice for footwear in all seasons. However, they do not look good at all when they get dirty
These few handy tips should help you keep your boots looking clean and fresh even if you do not have any cleaning kit with you.
We hope our article on how to clean UGG boots without cleaning kit could help you out. Good luck!