How To Clean Wedge Sole Boots – Ultimate Step By Step Guide
Here is a quick tip article on how to clean wedge sole boots. All you need are a pair of dirty wedge sole boots, a toothbrush, OxiClean, water, and of course, you will need a microfiber towel to wipe off the dirt and the excess cleaning solution.
These are all you need to keep your wedge soles clean. You can do this every week, or however often you feel like cleaning your wedge sole boots.
How To Clean Wedge Sole Boots – Step By Step
Step 1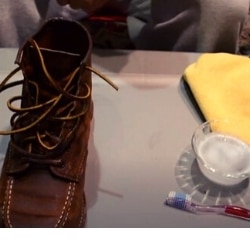 Alright, so that first step is to keep all the things within your reach. Take your boot and keep your rag close, so you don't make a mess. OxiClean tends to leave white stains wherever it spills and if it dries.
Step 2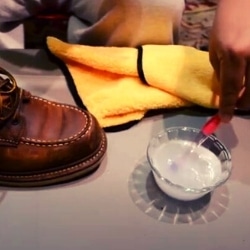 Now, take the brush and soak it in the solution. Soak the bristles, and brush one spot at a time. The nice thing about the OxiClean is that it lathers up nicely. As far as the mixture goes, you can probably use about a tablespoon and a half of OxiClean.
Step 3
You can use as much or as little as you want. One important thing to note here is that you should not let the OxiClean get too much on the leather.
It's not going to damage it or anything. It's not bleach, but you know it does tend to leave little white spots on the leather, which is ugly.
Step 4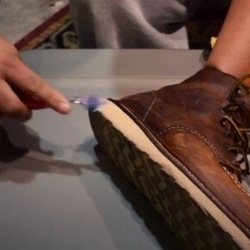 The biggest part that gets the dirtiest the fastest is the heel of the boot. You can wear these shoes for half a day, and this part is going to turn black. That's the nastiest. However, after some scrubbing, that dirt will go away.
Step 5
Before doing the next boot, you should probably change out the water and get some clean water and some new OxiClean there.
When You Need To Clean Wedge Sole Boots
It is highly recommended to use flat-soled work boots for work in paving, concrete, and ironwork due to their design. For those who have to stand a lot or move around a lot, these chairs offer excellent support. Agricultural and farm workers also use these boots.
If you work in an environment that is prone to tripping hazards, wedge-sole footwear is a better option. Moreover, the large contact point reduces the chance of getting entangled with smaller items. Wearing these shoes in certain work environments makes them safer.
As they age, wedge soles naturally darken, starting out as a pale, cream color. However, you will be unable to clean wedge sole shoes to the same light color as when they were new.
Adding to wedge sole boot's allure is the fact that they become a part of you as you wear them. Keeping them clean can help preserve their life and prevent gradual damage caused by dust or grit.
You can prolong the life of your boots by keeping them clean. The easiest way to keep them from becoming stained is to clean them regularly.
Times You Will Need To Clean
Your work environment and how often you wear them will determine how often you will need to clean your boots.
Wedge soles cannot be cleaned to the same degree they were in when they were completely new due to the nature of the material. That's fine. They are designed to grow along with you; they become your own.
You will, however, need to clean them up at times. Check out these top tips for cleaning wedge sole shoes.
Can I Use the Same Cleaning Method for Crepe Soles and Wedge Sole Boots?
When it comes to cleaning crepe sole boots and wedge sole boots, using the same cleaning method may not yield the best results. Crepe soles are made of natural rubber, while wedge soles can be made of various materials. It's recommended to follow the manufacturer's instructions for cleaning each type of sole to maintain their quality and longevity effectively.
Final Words
If you want to take advantages of your wedge sole boots properly, you must take care of it. A little bit of oxy clean, a toothbrush, or really any kind of brush that works for you, and some time, a little bit of elbow grease, and you are going to end up with a  clean, nice looking wedge sole boot.
And to read a general guide on all types of boot soles cleaning process, this article may help you a lot.