How To Remove Shoe Glue from Different Surfaces (From Cloths, Hands, Leather and More): Know the Tricks!
Repairing worn-out soles in a shoe is not a very complicated task. If you are handy with adhesives, then you can repair your shoes yourself without taking them to a cobbler.
This is a useful skill to pick up as it will help you get significantly more lifespan out of your favorite pair of shoes.
The trickiest part of the job is often getting rid of the residual glue left over different surfaces.
Naturally, as you work, a bit of glue can get on your hands or clothes. And when in contact with different surfaces, shoe adhesives can cause a lot of mess.
If you are wondering how to remove the residual shoe glue, then you came to the right place.
In this article, we will cover different tips and tricks to get rid of shoe glue from surfaces like leather, clothes, hands, and many more. And we also recommended some products that you need to get the job done.
So without further ado, let us get started.
How to Remove Shoe Glue from Shoes
After reattaching the soles, you will often find an annoying issue with your shoe. On a close inspection, you will notice that a bit of adhesive seeped out of the crack between the soles.
Though it causes no real problem, it does tarnish the aesthetics to some degree.
Wondering how to remove glue from shoes? Well, the following steps are for you.
If you have an art gum eraser, then you can use it to remove the excess glue. It is a gentle abrasive material that is effective at removing the gum or glue that seeped out of the soles. Just rub it gently over the adhesive, and it should come right off.
The art gum eraser method though effective, does not work all the time. If the method fails, you can use toothpaste as an alternative. Apply a bit of toothpaste on the affected part and wipe off the area with a damp cloth after some time. The glue should get removed after a while.
If both methods fail, you can use rubbing alcohol or acetone nail polish remover. It is a harder abrasive than an art gum eraser, so you do not want to apply it directly to your shoe. Instead, apply a bit of it on a clean, lint-free cloth and rub the excessive adhesive to remove it.
How to Remove Shoe Glue from Hands
It is very common to get some glue stuck on your hands after you are done with your shoe repairs. Here are the steps to get your hands free of adhesives.
Take a bowl of warm water and let your hands soak for a while. You can add soap to the water for a better result.
Then, apply a bit of nail polish remover or isopropyl alcohol to a soft cloth and rub it over the affected surface.
Once the glue feels softer, use a nail file to slowly remove it.
Rinse off your hand after all the glue is removed.
How to Remove Shoe Glue from Skin
The steps to removing shoe glue from the skin are pretty similar to removing adhesive from your hands, except for a few small differences.
Since your skin in other body parts is more sensitive compared to your hands, you need to be extra gentle. Here are the required steps.
Use warm water or olive oil to make the adhesive softer and break it down.
Then, dab a cotton ball in isopropyl alcohol and gently rub it over the affected area.
Once the glue breaks apart enough, rinse off the rest with warm water.
How to Remove Shoe Glue on Nails
Getting glue on your nail is not as bad as it sounds, as cosmetic nails also contain glue.
But since shoe adhesives are stronger than cosmetic nail adhesives, they can be harmful if you leave them untreated. If you get shoe glue on your nails, you can remove it using the following steps.
Acetone nail polish remover is the most effective product at removing shoe glue from nails. Use a cotton swab or ball to apply it to your nails where the glue has dried.
Alternatively, you can use isopropyl alcohol as it is incredibly adept at removing shoe adhesives. If you have a hand sanitizer at home, it pretty much serves the same purpose.
How to Remove Shoe Glue from Clothes and Fabrics
We always recommend wearing a set of disposable garments when working on shoe repair, as getting the glue out of clothes is not the easiest job.
Still, if you get a bit of adhesive on your cloth, here are the steps to remove it.
Gently try to scrape off as much of the adhesive as you can from the cloth.
Leave the fabric in a bowl of cold water and let it soak overnight.
Apply a bit of liquid detergent to the bowl the next day and use a soft brush to break the glue apart.
Then, rinse and wash the cloth thoroughly in lukewarm water. The glue should come off.
If the adhesive refuses to come off, you can apply a bit of acetone on a cotton ball and rub it over the surface. However, if the fabric is sensitive, it can get discolored because of the acetone.
How to Remove Shoe Glue from Fabric Shoes
If the shoe you need to repair is made of fabric, you need to be extra careful when applying the adhesive.
You want to prevent the glue from getting to the fabric part. We recommend masking off the top part of the shoe so that the glue cannot get to the shoe's upper.
However, accidents do happen, and if your fabric shoe does come into contact with adhesive, here is what you can do.
Let the shoe soak in a bowl of cold water overnight.
The next day, dab a soft-bristled brush in liquid laundry solution and use it to rub off the glue from your shoe.
Be as gentle as possible, as going with too much force can damage the fabric.
Once the glue is gone, rinse it in warm water and let it dry.
You can also use acetone to remove the glue in small quantities.
How to Remove Shoe Glue from Leather
Removing glue from leather products such as bags, jackets, or pouches requires a steady hand a lot of patience.
Rushing while removing the glue can damage the quality of the leather and can even cause it to peel. So remember to take things slow and one step at a time.
Here is how you can remove shoe glue from leather.
First, take a plastic scraper of some sort and scrape off the dried glue as much as possible.
Then, take a sponge and soak it in warm and soapy water. Go over the area lightly with the sponge.
Afterwards, use a dry, lint-free cloth to remove any leftover glue.
How to Remove Shoe Glue from Leather Shoes
Leather shoes, similar to other leather products, require careful cleaning if you want to remove shoe glue from them. You want to make sure you are dabbing the adhesive lightly.
Applying too much pressure can cause the leather to peel right off the shoe, negatively impacting its durability.
The steps to cleaning glue from leather shoes are as follows:
Using a dull scraper, try to peel off the glue as much as possible.
Then, apply a bit of warm water on a sponge and rub it over the glue carefully.
Use a dry cloth to clean off the excess water.
If the glue does not come off, you can apply a bit of acetone-based nail polish remover.
Allow the glue to soak the remover slightly and wipe it clean using a dry, microfiber cloth.
How to Remove Shoe Glue on Phone Screen
Getting some adhesives on the screen of your phone is very frustrating. Not only does it affect the aesthetics, but the touch response of your smartphone also starts to cause different issues.
So removing the adhesive as soon as possible is essential.
Here are the steps to removing shoe glue from the phone screen.
Turn off your phone and make sure it is completely cool before you start removing the glue. It would also allow you to find the residual glue easier.
First, use a microfiber cloth and wipe down the string thoroughly. If you are lucky, the glue will come right off. Otherwise, follow the next step.
Dip the cloth slightly in cooking oil and wipe down the adhesive on the phone screen. Alternatively, you can use isopropyl alcohol if cooking oil does not do the trick.
The glue should come off as you wipe the screen with alcohol.
Another trick is to apply some mayonnaise on the phone screen and let it rest for about 20 minutes. After that, wipe the screen clean, and the glue should come off with the mayonnaise.
How to Remove Shoe Glue from Plastic
Removing glue from plastic is a bit tricky solely for the fact that there are many different forms of plastic.
Without knowing what kind of plastic you are working with, it is very hard to give a definitive answer.
With that said, here is a pretty non-invasive way to get the glue off of plastic that has a reasonable rate of success.
Apply a bit of vegetable oil to the affected area. Of course, a skin moisturizer works just as well.
Then, use a clean and dry cloth and dab it repeatedly. Once the glue feels saturated, let it soak.
After about 10 minutes, wipe off the surface using a clean rag.
Alternatively, you can use a dash of vinegar if the glue has hardened too much. Make sure you are using white vinegar.
When the glue becomes loose, use a scraper or spatula to peel it off.
How to Remove Shoe Glue from Glass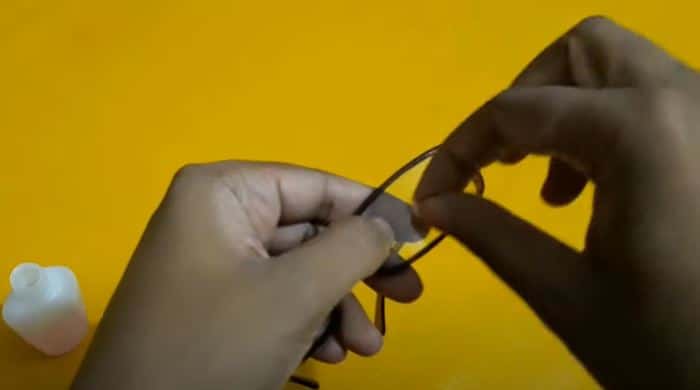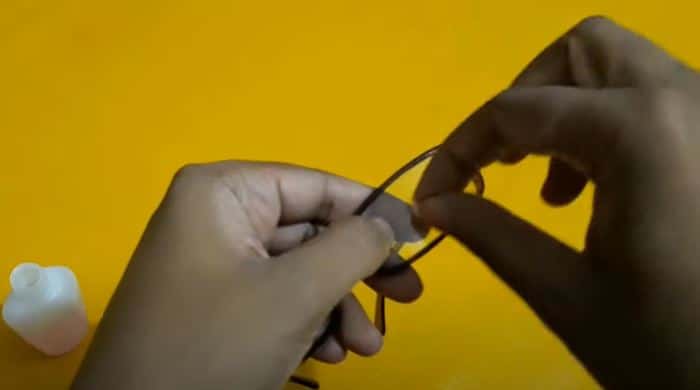 Dried glue on a glass surface is extremely unappealing to look at. In addition, it creates a bump on the otherwise smooth surface which can cause all sorts of issues. Thankfully, there are many good ways to remove glue from glass.
Here are our recommended methods of removing adhesive that has dried on a glass surface.
Start with using a bit of petroleum jelly on the affected area.
Let the glue soak for around 10 minutes.
After that, use a clean cloth to wipe off the jelly along with the glue.
You can also use nail polish remover, cooking oil, or even vinegar to remove glue on the glass. Let the glue permeate fully, and then use a scraper to scrub it clean.
If the two methods do not work, soak the glass in hot soapy water and leave it overnight. By morning, the glue should loosen up, and you can peel it off using a scraper.
How to Remove Shoe Glue from Metal
Although shoe glue is not typically used to bond metal, it is strong enough to work for that type of work. So if a bit of shoe glue falls on a metal surface, it will harden and form a bump once it dries.
Here are the steps to remove glue from metal:
First, make sure the metal surface is clean by wiping it off using a dry cloth.
Then, soak a clean rag in acetone or nail polish remover. Wipe it against the glued area thoroughly.
If the glue comes loose, you can scrape it off using a putty knife or flat-head screwdriver.
You can also use lighter fluid or hydrogen peroxide instead of acetone if the glue is tougher.
Can I Use Shoe Glue to Remove Shoe Glue from Different Surfaces?
Using shoe glue to remove Shoe Glue from different surfaces may not yield the desired results. Shoe Glue is specifically designed for bonding materials, not dissolving or removing adhesive. It is recommended to use appropriate solvents or adhesive removers to effectively eliminate Shoe Glue from surfaces without causing damage or leaving residue.
Final Thoughts
Glue stains on any surface look unattractive. Ideally, you want to wipe off the glue while it is still wet. But if it does dry up, our handy list of tricks should help you remove it from any surface.
Accidents do happen, and you need to be prepared to control the situation if it does.
We hope our article could give you all the information you would need to tackle glue stains anywhere. Good luck!