How to Wear Boots for Work & Fashion
There are so many boot types & styles today that choosing the right one for your needs can be immense trouble. Moreover, what's even worse, wearing them with the right set of clothes and overall clothing style can be a real pain. However, this is something that you can fix quickly.
To save time, effort, and avoid the pain of having to choose the right clothes for your boots or vice-versa – here we have the most straightforward and easy-to-follow guide to learn how to wear boots both for work & fashion like a boss.
Read further and learn more about the most popular designs and how to wear them correctly!
What Are Some Common Mistakes People Make When Wearing Work Boots for Fashion?
When it comes to fashion, people often make common mistakes when wearing work boots. To Avoid Mistakes When Buying Work Boots, one should consider the fit and comfort. Many individuals tend to prioritize style over functionality, leading to discomfort and potential foot problems. Choosing the wrong size or ignoring the need for proper support can result in blisters, soreness, or even chronic foot conditions. It's crucial to prioritize both fashion and functionality when selecting work boots to ensure a comfortable and stylish experience.
Wearing Boots for Work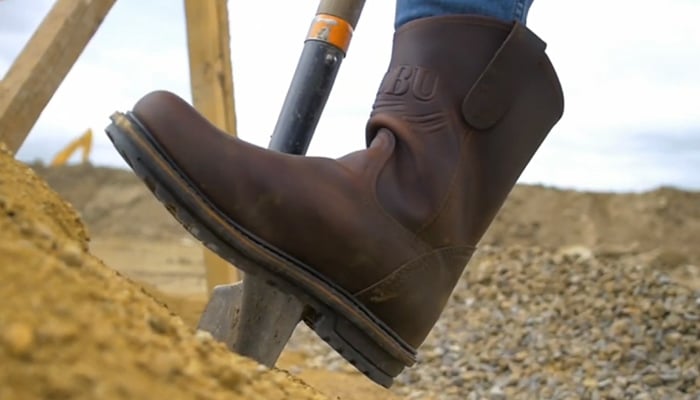 A work boot can be practically any boot ranging from boots for linemen, hiking boots, combat boots, or even some motorcycle boots, that offer both a serious and practical design. Even though they are also excellent for fashion styles, they do provide the chance to be much more useful for work-related activities.
The thing that makes them more useful is the thickness of the sole, the sturdy construction, and the intimidating approach which makes it even more helpful. Here is how you should wear according to your needs:
For Women
Focus on using skinny jeans or long skirts and serious shirts or blouses. Please make sure the colors are all between the gray to a dark palette, as it would make the boots, which are generally dark colors, to combine even better.
Alternatively, else, aim to achieve a more vintage look. Using denim and brown shirts paired up with a jacket. Remember that it is all about choosing the right look, aiming for something staid but laid-back at the same time. Unless you want to achieve something more intimidating, go for sturdier and darker designs.
For Men
If women make work boots look better with skinny jeans, then men do that even better. A bulk boot for hiking, for example, contrasts slim jeans perfectly well, making them stand out yet give the perfect stylish touch while being serious enough.
Always pair the jeans and boots with a leather jacket if you can. Brown boots always go better with jeans and a coat than with anything else. If you, on the other hand, prefer blacker colors, then a leather jack with black approaches will look excellent as well, but maybe too intimidating or stylish for work
For a general formal look, however, you may pick a serious shirt with shape designs or chemise with uni-color design, a coat, loose jeans and that would be enough. Make sure the boots are not too dark or too light, but more on a medium-colored style.
Optional
An option for work boots that tends to get overlooked by both women and men in the desert boot and ugg boots.
Desert boots are flexible, soft, and incredibly comfortable so they do well in both cold and warm environments. Ugg boots are comfortable for the snow season or winter. And of course, you can pair them up with a wide array of clothes. But for work, it is recommended to go for something more laid-back, such as jeans, a leather jacket, and a tight shirt underneath.
Or else, you may achieve something more formal with light-colored boots, a blazer, brownish or light jeans, and a uni-color t-shirt underneath with no designs. It will give you a perfect sense of style, comfort, but at the same time a semi-formal approach for any work environment.
Rules to Follow for Proper Work Boot Use
Aim to look formal but don't put jeans out of the equation.
Try not to use t-shirts, instead use formal shirts or chemises. Otherwise, use a jacket.
Dressing pants don't typically look too well with boots, so avoid them at all times.
The darker the boots, the easier it will be to use them at work. Black is always much more fitting.
If your work is physically demanding, go for a hiking boot or a motorcycle boot. If it is office work, a more casual style will work.
Tight jeans will always look better with boots in most situations unless it is formal.
Wearing Boots for Fashion
Fashion offers thousands of opportunities, as you won't have to follow any dress code at all, and you can pair whatever clothes you want with your boots without fear. Though, there are some methods to make them look a lot better, depending on the situation and style of the shoe.
On the Street
For street activities or just for going for a walk, a black leather boot will always be a perfect choice. For either a man or a woman, these boots fit practically any clothes, jeans, and even dresses. And many fashionistas prefer crepe sole for their leather boot.
For women, black leather boots up to the knee are amazing. They can be fixed with skinny jeans or short skirts and many other options. With the right blouse, you may aim for a dark/punk design, or a more lighthearted feel with an intense color such as red, blue or grey.
For men, go for a black leather ankle boot instead. They are incredibly versatile and can be used with chinos, tight jeans, or even roll-up pants of any material. Remember, however, to use something with a revealing but badass touch on your torso, such as a V-neck t-shirt with a black leather jacket, for example.
For Loose Styles
You may think it is not possible, but yes – there is a way to use that lovable sweatshirt with a boot, and it will look amazing. A loose style focuses on being laid-back and not too careful in every way, so you may take as many liberties as you want. However, there are a few things you could consider.
A woman can use a tough safety boot with a skinny roll-up jean, and an open top. Safety boots, however, are always better in dark colors for something sportier. Otherwise, use an army-green jean with a grey or dark color on top; it will give the perfect loose yet powerful touch many women like.
For men, you can do similarly. Here you can use either loose or tight jeans as you like, and on top, you can use t-shirts, jackets, or even sweatshirts if you feel like it. However, make sure that pair them up correctly with the right jean color. Especially when you choose a light brown boot, go for a light colored jean. Dark and bright colors with boots should always match.
A Night Out
Going outside always means walking, spilled beverages, several trodden feet, and other physically demanding situations. For that, there's nothing better than a construction or combat boot.
Women will always wear these much better than men. They can do it with a dark cotton dress and a jacket, with something more casual such as jeans and a laid-out blouse or bomber, or jeans short with a crop top, and what always matches perfectly – an ankle skirt, a matching shirt, and a jacket.
Men, however, may find going out at nights with boots a little uncomfortable or similar to other situations. However, there's nothing a good pair of combat boots with a hooded leather jacket and a good pair of dark jeans can't do. A motorcycle jacket with dark-blue jeans and the darkest combat boots always go very well together.
Rules to Follow for Proper Fashion Boot Use
Remember you have thousands of options to go for, so there are almost no rules here. But always make sure to choose matching colors to avoid looking weird.
Combat boots are always very versatile. You can pair them up with almost any style, so get a pair of these for excellent
Avoid dark colors in the morning and light colors at night. Always go trying to fit with the environment.
Don't hesitate to be creative & design your fashion styles.
How to Fit Boots Correctly
Now that you know what several types of boots can do to your style, it is essential to understand how to pick the perfect one for your needs. Here we are going to focus on fit and comfort, so take a look at these tips:
Try the boots before buying them; you should feel no toe pain, heel pain, ankle pain, or feel too loose. Tight feelings are normal with boots, mainly combat and motorcycle ones.
To fit your boots much better, it is recommended to use the right socks. Cotton and nylon socks are much better than wool or other delicate fabrics when using boots.
Feet should be supported, comfortable, and should allow the feet to move entirely from the ankle to the toes.
Ready to Start Using Your Good Looking Boots Now?
When it comes to wearing boots, there are thousands of approaches you can take, but only a few will make you look amazing. Knowing how to meet these styles according to whether you need them for work or fashion, will help you save time while dressing.
So don't hesitate and start using those boots now. You won't believe how versatile, useful and comfortable they actually are for different situations!