Kenetrek Boots: Insulated Vs Uninsulated
If you are an avid hunter and are on the market for a new pair of g boots, Kenetrek might be one of the top brands on your radar.
This brand is well-known for manufacturing high-quality boots for various activities. Apart from hunting boots, they are also pretty adept at making construction, hiking, lineman boots, etc.
When you are shopping for hunting boots or hiking boots, one of the first questions that you must ask is whether you want to go with insulated boots or uninsulated ones.
It might seem like a simple decision, but there are a lot of different factors to consider. And that is the main focus of our article.
In this article, we will do a thorough discussion on Kenetrek boots insulated vs uninsulated to help you pick out the perfect pair of boots for your next big trip.
So without further ado, let us get started.
Kenetrek Insulated Boots
There are many who prefer to wear insulated boots because of how comfortable it feels during the winter. But there are also some major issues with wearing insulated boots all the time.
Here are some advantages and disadvantages of wearing Kenetrek insulated boots that you should know about.
Advantages of Insulated Boots:
✓

They Keep Your Feet Warm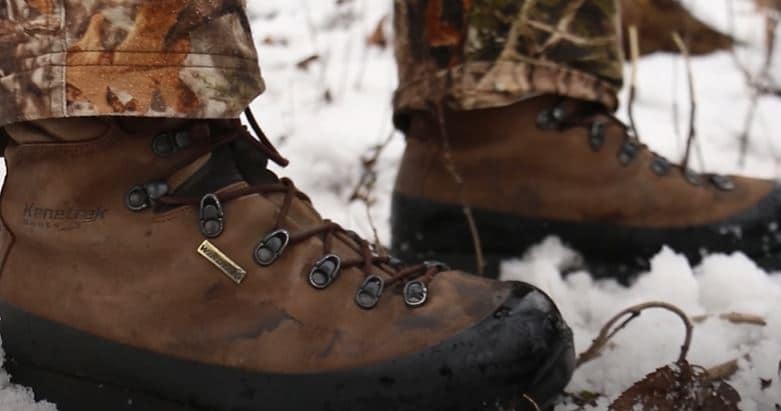 The most obvious reason for wearing insulated boots is to protect your feet against the cold.
If you are hiking in high altitudes where the temperature is freezing, then wearing a pair of insulated boots is essential. Insulated boots are also quite comfortable to wear during winter in general.
✓ They can be Worn without Socks
Since insulated boots are thicker on the inside, you can wear them barefoot. With insulated Kenetrek boots, your feet will remain comfortable inside even if you are not wearing any socks.
And since these socks absorb moisture, your feet will not get smelly either.
✓

They Keep your Feet Dry

Another major benefit of wearing insulated boots is that most of them are designed to be waterproof.

So even if you walk through a puddle wearing an insulated pair of Kenetrek boots, your feet will be free of water.

Besides, waterproof shoes are also more durable.
Disadvantages of Insulated Boots:
Insulated boots might protect your feet from the cold, but during the summer, they can be extremely uncomfortable to wear.
It will cause your feet to sweat and may also lead to blisters. Unless you are wearing the boot in a cold environment, insulation is not a very good idea.
One of the major issues with insulation is that they add some extra weight to the boots.
For activities such as hiking or hunting, where you want to be quick on your feet, the extra insulation might feel unwanted.
Kenetrek Uninsulated Boots
Now that you have a decent idea of what to expect from insulated boots, it is time to turn our attention towards uninsulated options by Kenetrek.
Uninsulated boots also have a fair bit of popularity among users. Here are some of its advantages and disadvantages that you should know about.
Advantages of Uninsulated Boots:
✓ They Feel Lighter
Without the extra bit of insulation weighing them down, uninsulated Kenetrek boots feel considerably lighter.
And for any sort of hunting or hiking trip, lightweight boots are always preferred.
✓

They are Comfortable During Summer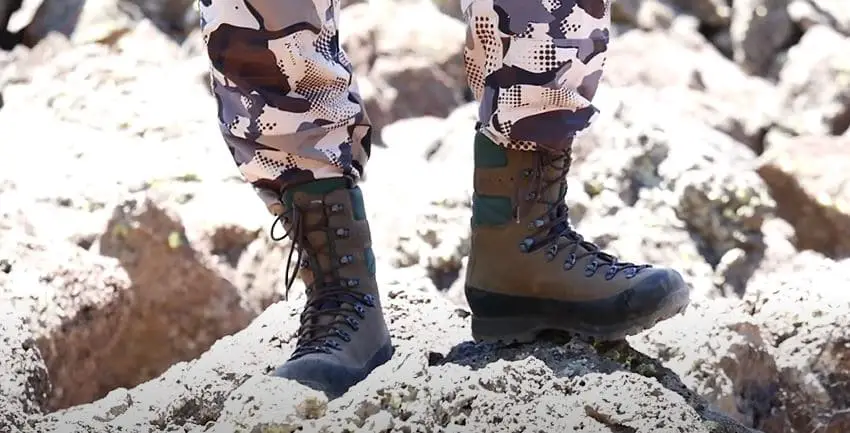 Uninsulated Kenetrek boots are also a lot more comfortable to wear during the summer compared to insulated ones.
Since these boots promote airflow and protect your feet from getting too hot, they are the perfect choice of footwear for general use during the hot seasons.
✓

They are Cheaper

The uninsulated boots by Kenetrek also cost a bit lower than insulated boots.

Since insulated boots require extra material on the inside, naturally they cost a bit more.
Disadvantages of Uninsulated Boots:
Uninsulated boots are not meant to be worn during cold temperatures. Without any extra protection inside these boots, your feet will start freezing and going numb if the weather is extremely cold.
However, to protect yourself against the cold, you can wear thick woolen socks inside the boots.
Uninsulated Kenetrek boots are rarely waterproof. So if you have to cross a river while wearing the boot when you are on a hiking or hunting trip, you will have no choice but to open up the boot and cross barefoot.
Final Verdict: Which one is Better?
As you can see, there is no clear winner between insulated and uninsulated Kenetrek Boots. Both of these types of boots are popular, and depending on the season or activity, both of them can be great choices.
If you are planning on wearing the boots during winter, go for Kenetrek insulated boots. However, uninsulated Kenetrek boots are better as summer footwear.
We hope our article on Kenetrek boots insulated vs uninsulated could help you figure out which type of boot is better for you.
Thanks for reading till the end.