Why Do Logger Boots Have High Heels | Know the Answers
Like many other types of work boots, logger boots are iconic for their high heels and thick soles.
But most people are not aware of the reason behind this elevated heel design of this type of boots. Is it solely for fashion, or is there a more practical reason behind this design choice?
If you are professionally involved in the timber business, you already know the importance of wearing the right pair of boots for the logger job.
In this article, we will explore why logger boots have high heels and how they subtly make your job a lot easier.
We will also leave you with a few fantastic choices if you are planning to buy a pair of these boots for yourself. With that said, let us get started.
Why Do Logger Boots Have High Heels?
There are many reasons behind the high heel profile of logger boots. In the following section, we will discuss some of the main reasons behind it so that you can appreciate the design choice even more.
Makes Climbing Easier
Climbing trees every now and then is part of the job description for loggers and lumberjacks. When directing the fall, loggers usually tie a line at the top of the tree they are cutting.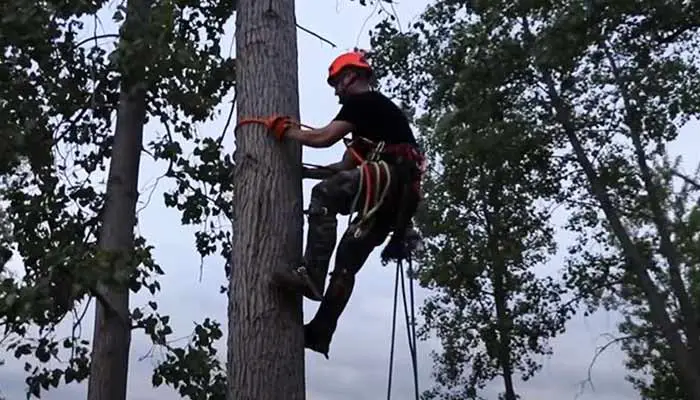 For that, naturally, you need to climb to the top of the tree. That is why loggers usually attach spurs to their boots.
Though spurs can make climbing easier to some extent, a flat-soled shoe is not the ideal choice for climbing trees.
The high heel design of logger boots helps you get a better grip on the tree and lets you really dig into it without fear of falling. These boots also have a grippier sole design to promote climbing.
Supports Walking at an Incline
Have you noticed how walking on a slopy terrain for a long time causes your heel to start aching?
The reason behind it is that our heel is the part that touches the ground first when we are taking a step forward. And unless your shoe is designed to absorb the impact of walking, your heel will feel sore after a while.
Logging boots are designed to protect your heel and absorb the shock while walking a steep path.
Because of the high, thick heel design of this type of boot, the heel of your feet will not hurt as much even if you are walking for a longer period.
Loggers typically work at rough, uneven terrains. Without logger boots with high heels, they will not be able to navigate the rocky or slippery grounds easily.
These boots are designed to protect your feet against such environmental hazards.
Provides Better Comfort
Loggers require standing around all day which can naturally lead to foot ache once they get home. That is why, it is important for logger boots to be comfortable to wear. 
Because of the high heel design, logger boots provide better heel and arch support which reduces foot pain and injury.
Without the heel and arch support provided by logger boots, it would be difficult to climb or stay perched on trees. The High heel design is an essential part of
In addition, the interior space of logger boot is also larger to accommodate the higher heel. As a result, wearing this type of boots for a longer period does not feel too uncomfortable.
Offers Higher Durability
Logger boots are not exactly fashion boots but rather work boots that are designed to outlive any of your other footwear.
The thick, elevated sole on this boot is part of the reason why these shoes are extremely durable.
Because of the sole, the bottom part of the shoe can easily sustain any abuse you throw at it.
Compared to flat-soled boots, logger boots with high heels survive longer and are suitable for rougher conditions.
Since you will be mostly walking around in rougher terrains such as forests or hills, the high heels of the logger are essential for the safety of both the boots and yourself.
Gives Elevation
Loggers need to work in unpredictable terrains all the time. Sometimes, their work takes them through swamps and marshes.
Without high heels, the boots will get wet, and once water gets inside the boots, the working condition will not be very comfortable.
High heel boots give some much-needed elevation in those situations. If you are walking through marshy terrain, wearing a pair of logger boots will protect your feet from getting wet.
Provides Better Balance and Stability
Another major reason behind the higher heel design of the logger boot is to provide you with better traction, balance, and walking stability.
You never know the condition of the terrain where you need to cut the tree before you head out there yourself. So, the boot needs to be able to handle any sort of terrain without complaints.
Whether the terrain is swampy or filled with snow, your boots need to be able to give you proper balance.
The last thing you want is to worry about slipping while holding all of the dangerous equipment that you require while cutting a tree. Having a stable pair of boots is essential for a logger.
Promotes Better Posture
One of the main reasons behind back pain is poor posture and walking stance. And loggers who do not wear proper boots often suffer from chronic back pain after returning home for work.
Needless to say, having to deal with this pain after a tough day at work is not very desirable.
Logger boots, by design, help you get a better posture. The high heel design of this type of shoe ensures your back remains straight and your spine does not bend at weird angles while working.
As a result, back pain is not as common for those who wear the proper footwear.
Your back is not the only part that suffers from poor posture. Another common effect of poor posture is aching in the ball or heel section of the foot.
With elevated logger shoes, this affliction is another one that you can avoid and enjoy a better time both during and after work.
A foot condition known as Plantar Fasciitis can happen if your heels are stressed. People suffering from this condition have the tissue on the bottom of their feet swollen.
By wearing proper logger boots with raised heels, you will prevent this from happening to you.
Most logger boots also let you change the inserts and place custom ones that support your feet better.
With high heeled logger boots, you will be able to get better arch support by swapping the insert that came with the boot to something that suits more to your liking.
Are Logger Boots Suitable for Everyday Wear?
Are Logger Boots suitable for everyday wear? Many people wonder, Why Are Logger Boots Good? Logger Boots are specially designed for heavy-duty work in rugged environments. With their durable construction and sturdy grip, they provide excellent ankle support and protection. However, due to their heavy weight and aggressive tread, they may not be the most comfortable choice for everyday activities or long periods of walking.
Final Verdict
As you can see, high heels on logger boots are not only a fashion choice but instead a practical one. The elevated profile of the boots offers a lot of benefits to anyone involved in the timber industry.
If you are planning to buy a new pair of logger boots for yourself, make sure you check the heel profile.
Some people prefer a higher feel, while others find a lower heel design more comfortable.
So, make sure you pick out the one that suits your taste and comfort.
Personally, we recommend going with the Carhartt CML8369 Men's Logger Boots if you like high heels on your boots.