How To Make the Inside of Uggs Fluffy Again – Quick Tips!
During a freezing winter, nothing feels better than slipping your foot inside a pair of UGGs. These warm, fur-lined Ugg boots are best at getting you through snow and cold winter comfortably. And they are quite stylish too.
When you first buy your UGGs, you would notice how fluffy the insides feel. However, as time goes by, a lot of it might start to fade. Thankfully, there are ways to fix it.
So, if the fur inside of your UGGs feels matted, do not throw it out right away. In this article, we will give you a few quick tips on how to make the inside of your UGGs fluffy again to get the most out of your pair of boots.
What Makes UGGs so Good?
UGG is a very popular shoe brand, and the boots they design are both stylish and comfy. These boots come with a very comfortable inner lined with fleece to keep your feet warm. Also, this brand makes shoes for wide calves and wide feet.
They are also quite durable and will last you for quite a while as long as you take care of them from time to time. UGG boots are well suited to tackle harsh winter weather because of the sheepskin lining on the inside.
These boots can keep your feet warm even if the temperature outside is freezing. Comfort, quality, and warmth are the three main elements that make UGG boots so special.
How to Make the Inside of UGGs Fluffy Again
Over time, your UGG boots will lose a lot of their fluffiness. The wool inside the boot can get matted down, and it will not have the same warmth or comfort as when you bought it. Any fleece used in garments requires a touch-up from time to time.
Here are three simple ways you can make the inside of your UGGs fluffy again easily.
Use A Pet Brush
If the fur lining inside your UGG boots gets matted, you should use a slick brush to comb the interior lining. Combs that you use on pets can be perfect for UGG boots. However, make sure you clean the comb thoroughly before using it to fluff up your shoe.
Use Ugg Products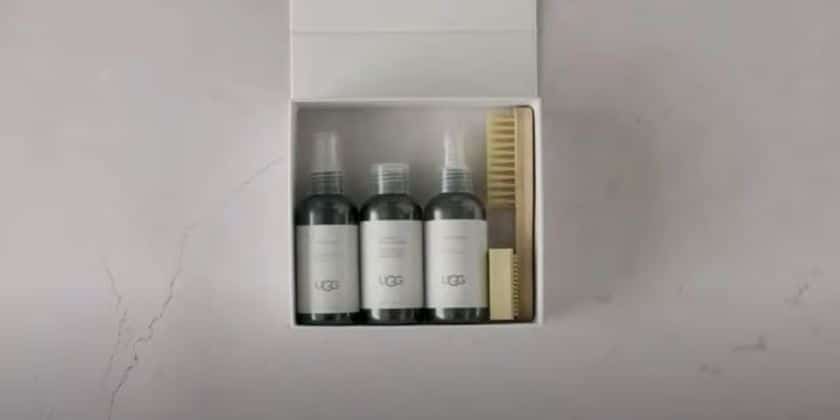 There are also several products manufactured by UGG themselves that can help you keep the interior fluffy. Products like UGG Cleaner & Conditioner, and UGG Shoe Renew can restore the sheepskin inside the shoe to its former glory. UGG Shoe Renew, in particular is a good product to have if you use your boots frequently.
If you do use the UGG Shoe Renew spray solution, make sure to go lightly with it. Do not overspray and wipe off the excess solution residue using paper towel. Then leave the shoe overnight and let it dry out. Voila, your boots should feel as fluffy as it did when you first bought it.
Below, we recommended some well-known ugg cleaning products for you.
Homemade Solutions
For people who do not want to use products or kits, there are ways to clean the UGGs and re-fluff the fleece. First, you want to eliminate any odor from the inside using baking soda. Pour about ½ cup of baking soda inside the boots. Then use a vacuum to take it all out the next day.
You should use a rolled paper towel to clean the inside of the boots. And once you are done, give the insides plenty of time to air-dry. Ideally, you should wait for at least 24 hours before you wear the shoes. Otherwise, the inside of the shoes will get matted down.
Should I Wear Socks with UGG Boots?
UGG boots, at least the genuine ones, are made using real Australian Sheepskin. You should never wear these boots with socks. Socks can trap moisture which can negatively impact the fleece inside the shoes. Wearing socks with UGGs can cause the interior to get matted down.
The main reason why people wear socks with shoes is to prevent foot odor. However, UGG boots do not give off any foul odor if you wear them without socks. In fact, wearing socks in the first place is the main reason behind getting smelly UGG boots.
If you keep your feet clean and dry before wearing your boots, you should never have to worry about foul odors coming out of the boots. The fibers of the fleece inside the boot will also remain healthier without socks.
Can I Use Petroleum Jelly to Make the Inside of Uggs Fluffy Again?
Petroleum jelly is not recommended for making the inside of Uggs fluffy again. However, it can be used to Shine Shoes with Petroleum Jelly. This versatile product offers a protective coating and can restore the luster of dull-looking footwear.
Final Thoughts
When your favorite UGG boot loses its fluffiness, it can be a bit disappointing. However, with our handy tips, you should have no trouble figuring out how to make the inside of UGGs fluffy again.
All it takes is a bit of patience on your part. We hope our article was informative and could help you keep your boots fresh and comfy.