Wedge Sole Vs Heel – Which One You Should Choose?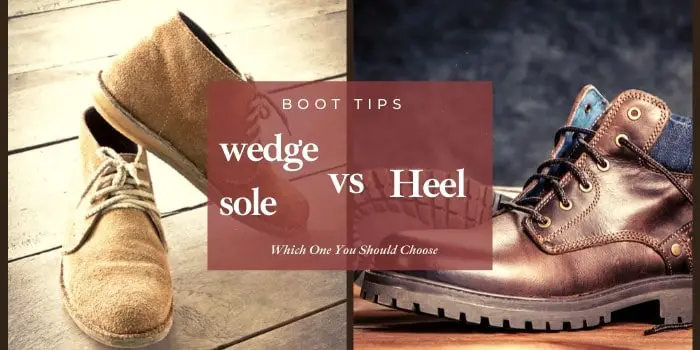 What is the difference between a wedge sole boot and a traditional heeled work boot? Is it just personal preference, or do they really make a difference on a worksite? This is a fairly common question that I see a lot on different forums.
In my personal experience, if you walk a lot, you will feel better wearing wedge sole boots. Thanks to the solid and plane outsole, you will get that even step all day long. Wedged boots are better for comfort. You will feel more comfortable as time progresses throughout the day.
If you walk a lot at work, wedge sole work boots are for you. Now, when it comes to actually have to work on a ladder, or you are working in a place where the ground is uneven and you need traction, you will need to wear heeled boots.
If you have to climb up and down on uneven terrains, I will recommend you use boots with heels. If you want the best of both worlds, you can get heeled boots that use the same soft materials that are used to make wedged boots.
Wedge Sole Vs Heel Work Boots
If you're looking for one pair of boots to be your all-or-nothing boot that's going to do everything you need to do, forget about it. It's not going to happen. This type of thinking is dumb.
Instead, you should look at the difference between wedge sole vs. heel and figure out which one you need for your work. In the following section, I'm going to discuss the pros and cons of each type of soles and let you know which one you should choose and why.
Wedge Soled Boots
First, let's look at the wedge outsole. The wedge-soled boots have an outsole that tapers from the heel to the toe in order to create a wedge. This provides maximum comfort on hard flat surfaces because it allows the entire outsole to be in contact with the ground. 
The wedged sole design on work boots offers better comfort because it distributes pressure evenly across the entire foot.
In wedge work boots, the bottom half of the boot will be made from a single piece of polyurethane rubber that's thicker in the heel region than the toe region.
Therefore, the soles remain in constant contact with the ground, making walking more comfortable.
Wedge sole boots are made with a durable rubber that resists heat and oil. The grip of the boots ensures that you don't slip and fall since they prevent that from happening.
As each brand develops its own grip style for wedge sole work boots, no two pairs of boots have the same grip.
Is It Possible To Keep Wedge Soles For A Long Time?
Wedge soled boots from a reputable brand should last around eight to twelve months. A good quality rubber sole is recommended to avoid sole separation.
Is It Worth Buying Wedge Sole Work Boots? – The Advantages
Wedges sole boots have three major advantages.
Good Stability
It is easier not to slip and fall when the sole stays on the ground, and this is a primary reason why most worksite workers prefer wedge-soled work boots. 
Doesn't Make A Mess
While wearing the soles, it is easy to tread on muddy terrain because they do not contain deep channels. Because of that, dirt won't stick to the bottom of the sole.
Comfortable
This is the sole type you need to choose if comfort is what you're looking for. Because of its design, you will feel less pain in your legs since the balance will be spread evenly on your feet.
The Disadvantages
Now, let's discuss the disadvantages of wedge soles.
A wedge is designed for flat surfaces; as for gripping, it is not a strong suit for this type of sole.
They have thinner soles, which makes them less durable.
Wedge Soled Boot Is Good For Which Profession?
You can choose the wedged sole boots if you work in:
Iron Workers
Asphalt Paving Job
Carpentry
Road Construction
Brick Layers
Farming
Here are some recommended wedge sole boots for you –
[amazon box="B07ZSWFDB1,B07ZDV2N3H,B01N6IDOPJ" grid="3″]
Heeled Boots
On heeled boots, the heel and the sole doesn't sit flat on the ground. The sole also tapers into the foot, and then the heel creates a lift.
Working in a pair of heels might cause foot pain at the end of the day because of pressure points located on the sole of the boot. In contrast, work boots with heels provide better traction due to their lugs and treads.
These work boots have a noticeable stacked heel and a wide sole, which makes them more appealing in appearance. Its sole is designed to stay firmly attached to the ground in the front half.
Thus, the boots have a good grip. The front half section of your feet is under a great deal of pressure since the middle section never makes any contact with the ground. You stand on a platform with your heel on top.
Appearance-wise, heel boots look better than wedge boots. Due to the way it is designed, this type of sole also helps improve posture.
Does The Sole Of A Heel Last Long?
Depending on the type of material used in the construction of the boot, a heeled work boot may last you up to three years.
Is Buying Heel Soled Boots Worth It? – The Advantages
High-heeled boots are durable, have a good toehold, and are very useful. Construction workers, electricians, and loggers will find these boots very helpful because they are able to perform better on uneven terrain and concrete floors, along with having thick soles.
The Disadvantages
The problems of using heel work boots.
These boots cannot be worn on uneven surfaces.
They cause pain in the legs and feet of the wearer at times.
They are large and bulky.
Heel soled boot is good for which profession?
Heeled boots are ideal for workers in:
Loggers
Line Workers
Pipe Liner
Traffic Points
Pole Climber
Electrician
Here are some recommended heeled boots for you –
[amazon box="B00BC3VEB8,B08GLC311M,B08QYSD96F" grid="3″]
Difference Between The Two Tread Patterns
First, on the wedge boot, you'll find a very light tread pattern which is great for going from a worksite into an office or, more importantly, into your home after a long day's work.
On the other hand, you will find a much more lugged pattern on a heeled boot. This is great on uneven surfaces. And the heel provides extra stability especially going up and down ladders.
What are the Advantages of Choosing Wedge Sole Boots over Heel Boots?
The Advantages Of Wedge Sole boots are numerous compared to heel boots. Wedges offer better stability and support, making them suitable for extended periods of walking or standing. They distribute weight more evenly, reducing the risk of foot and ankle injuries. Plus, wedge sole boots provide a stylish and contemporary look without sacrificing comfort.
Final Words
So here is my answer. Own both! Own a wedged-sole pair of boots. It doesn't matter whether it's a steel toe or a comp toe, safety toe, or non-safety toe. Also, own a nice pair of heeled boots. You will need to give yourself the ability to move back and forth.
You will need to give yourself the freedom of having a wedge-soled boot and a heeled boot. When you're looking for that type of dependability from one pair of shoes, you just can't get it. I hope this kind of clears things up for you. And that's all there is to know about wedge sole vs heel.